COMING UP: May 2nd 2021 Cinco de Manhattan's
Join us for our third annual Cinco de Manhattans fundraiser, Sunday, May 2nd, 2021.
We'll enjoy tacos while supporting Catholic education.
More details about Tickets, Food & Entertainment as the event approaches on Facebook.
Not on Facebook? Get tickets here.
April 8, 2021: Inaugural Mustard Seed Houston Open
Golf with us! All proceeds benefit The Mustard Seed Education Foundation. Read more HERE.
Jan 31-Feb 5 2021: National Catholic Schools Week
We're Celebrating Faculty, Staff and Volunteers — the unsung heroes of the coronavirus.
Parents are transferring kids from remote public schools to in-person Catholic schools as teachers unions fight to keep schools closed.
"During the pandemic, America's Catholic schools are providing a similar lifeline to hundreds of thousands of children who would otherwise be out of class and losing ground." — William McGurn for the Wall Street Journal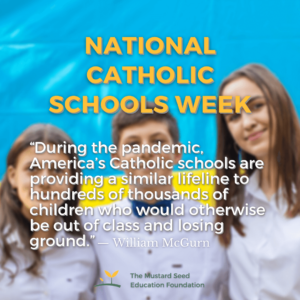 Can't read the WSJ article? Read the start of the article free on Fox
WSJ: Here
September 14th 2020: Inaugural Golf Outing
On Monday, September 14th, 2020, Mustard Seed partnered with Polaris Logistics Group to have our Inaugural Golf Outing at the Toledo Country Club. All Proceeds benefited Mustard Seed. Thank you to all our sponsors and attendees!
May 5th 2019: Cinco de Manhattan's Fundraiser
The Mustard Seed Education Foundation will host its first fundraiser on Sunday May 5th, 2019 from 5pm to 8pm at Manhattan's Restaurant on Adams St. in downtown Toledo.  Tickets are $25.  Musical guest is 2 Plus One.  Come join us for an evening of food and fellowship as we help shape the hearts, minds, and souls of the future.  
April 7th 2019: Blessed Sacrament Open House
The Mustard Seed will staff an information display at the second open house at Blessed Sacrament school.  The foundation will award $5000 in scholarships to families at Blessed Sacrament for the 2019/20 school year.   
March 3rd 2019: St. Joseph's Maumee Open House
The Mustard Seed staffed an information display at the St. Joseph's Maumee open house.  We are proud to partner with St. Joe's as we work to help families there achieve their dream of sending their children to Catholic school.
February 10th 2019: Blessed Sacrament Open House
The Mustard Seed was proud to staff an information table at the first Blessed Sacrament open house.  There were a large number of new potential families that came through the school.